Discover more from When&What to Grow in Your Pac NW Garden
Seasonal & Timely Growing Tips for the Pac NW, All Year Long. Sign up to access a library of weather-relevant projects, & instructions on what to plant and when. Subscribers have FULL ACCESS to me for personalized garden q's on plants, design & resources
Chia vs Hemp :: A Health Lovers Guide
Nutritious eating has always been my game – I like getting the proper proportion of fats, protein and healthy carbs in on a daily basis. Like most people, I'm also following food trends and hoping to anticipate them. Flax meal? On it – you can catch a recipe or two in Urban Pantry. Fermented foods? Eat them – I have several jars in my fridge and eat them with a soft-boiled eggs as a quick lunch when I'm in the gardens.
Lately, it seems everyone is going ga-ga over hemp seeds and chia – me included. I wrote about hemp seeds in the February issue of Seattle Magazine and received a bag of 'cereal' at IFBC 2014 that included chia with hemp and buckwheat (and was delicious). Experimenting with healthy foods is fun, but I can't help but wonder……why the fuss? What ARE these proclaimed super foods actually adding to our diet and do we need them? I had a vague understanding that both would add healthy fats and protein to my daily intake, but why choose them over my regular smoothie addition of a nut butter?
Here, I did a little investigative reporting, hoping to suss out the low down after I received a bag of seeds from Manitoba Harvest. While sources and packing information vary across brands, oddly, here is the essential caloric breakdown for both hulled/shelled hemp seeds and chia, based on a 1 ounce portion:
CHIA : 137 calories, 9g of fat (a significant portion of which are omega-3 fatty acids), 12g of carbohydrates (the bulk of which is dietary fiber) and 4g of protein
HEMP : 174 calories, 14g of fat (half of which are omega-6s), 2g of carbohydrates and 11g of protein.
From this, it's clear that hemp has way more protein and chia has way more fiber. They both contain a decent amount of healthy fats, but chia is higher in omega-3 (like you find in salmon) and hemp is higher in omega-6, which is also found in poultry, nuts and whole grains. A healthy diet needs to balance the two, so increasing our intake of omega-3s is typically recommended. Not to get too heady, but these omegas are both essential fatty acids – we don't produce these fats naturally so we must get them from our diet. They are used as an energy source, help to regulate inflammation and are thought to protect against diabetes, cancer and heart disease. Additionally, both have the ability to level out blood sugar, working to avoid spikes and valleys of energy while evening out our metabolic rate. Good stuff!
So why choose one over another? Well, our diets do include a decent amount of omega-6 already (whole grains, nuts & poultry, remember?), so we're not missing that fat as much as the omega-3s. That's a +1 for chia! Fiber is filling and sustaining – that's another +1 for chia, as carbohydrates keep us feeling satiated longer. Hemp, on the other hand, has way more protein - +1 for hemp if you're a vegetarian or looking for an alternative protein source. Hemp is also a bit higher in calories - another plus for anyone hoping to gain weight. (Hey, it happens.)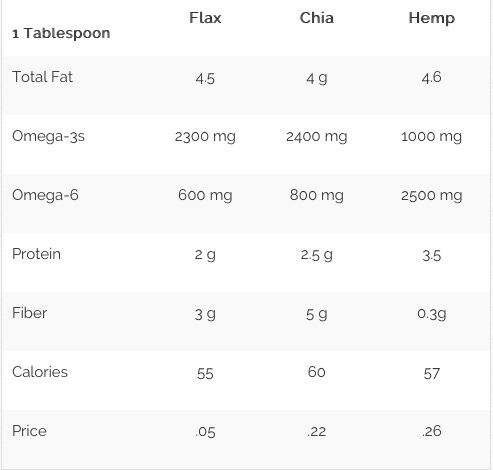 Flavor-wise, the two don't really compare. The flavor of chia seeds is not strong - it's more about the texture. Through absorption of an added liquid, chia seeds create a gelatinous exterior, similar to that of tapioca pudding or bubble tea. If you like this toothsome, custard-like quality, chia is a win. People like adding chia seeds to their morning smoothies, which makes for a pleasantly thick shake. Hemp, as you might expect, has a nutty flavor that is similar to pine nuts. When added to a smoothie, there is a distinct undertone of a nutty quality, though the seeds are soft and therefore blend well without leaving chunky bits behind.
Hemp seeds can also be soaked and pulverized with liquid to create a savory sauce or sprinkled over salads for a bit of crunch – a great option for anyone with nut allergies. Chia makes for a healthy snack by way of pudding. Cover the seeds in milk, coconut milk or nut milk and you wind up with a pudding-like treat. Adding cocoa powder and honey sweetens the bowl for a dessert, whereas adding cinnamon and maple syrup makes for a more breakfast-friendly meal.
So maybe the real trick is in adding both on a more regular basis? Instead of using only almond butter, try pureed hemp seeds. Or skip them both and opt for the fiber-rich chia a couple of times a week. That's definitely my plan, as well as stocking the fridge occasionally with a chia-coconut milk-cocoa 'pudding'.
And lest you get too carried away with all these fad-forward foods, don't forget about good ol' flax seeds, which are another wonderful plant source for carbs, fat and protein. (More on that here, from Nutritionist Monica Reinagel) Having had their day in the sun, they may not be as trendy just now, but pound per pound they're less expensive than chia or hemp – a budget-conscious health-lovers dream.