Discover more from When&What to Grow in Your Pac NW Garden
Seasonal & Timely Growing Tips for the Pac NW, All Year Long. Sign up to access a library of weather-relevant projects, & instructions on what to plant and when. Subscribers have FULL ACCESS to me for personalized garden q's on plants, design & resources
Homemade Aged Eggnog
More nuanced then just-made 'nog, aging mellows the boozy nose of this super spiked beverage and makes for a harmonious, blended flavor.
How & Why to Make Aged Eggnog
Eggnog is made with eggs, sugar, a blend of spirits and milk or cream (or both). In a typical iteration, eggs are blended with sugar and booze creating a thick and sweet beverage, not unlike Baileys. From there, portions of milk and cream are added before serving. Some recipes call for whipped cream, while others fold in whipped egg whites. I took another route entirely and went for an aged eggnog recipe.
Alcohol is a natural preservative, killing off bacteria. I had heard of aged eggnog before—the process seemed so much easier than the last minute preparation required with other recipes. With aged eggnog, eggs and spirits (like rum, brandy, cognac, whisky, or bourbon) are blended and mixed with sugar, the alcohol killing any potential of bacteria from the raw eggs over the course of time. (In fact, some think aged eggnog is safer to drink.)
The real benefit to aging the eggnog, however, can be tasted with each sip. More nuanced then just-made 'nog, aging mellows the boozy nose of this super spiked beverage and makes for a harmonious, blended flavor. Smoother-tasting than fresh eggnog, aging the drink also turns the consistency thin, a nice break from the thick and cloying versions we've all come to expect from the store.
To serve, you can of course fold in whipped cream, if you're a frothy eggnog lover; just as you can use reduced fat milk if you prefer a lighter version. I add toasted star anise to the jar a few days before I plan to serve it—the warming spices embody all that is symbolic of the holidays in one.
Aged Vanilla Eggnog
Makes 8 lowball glasses | start to finish: 20 to 30 minutes
1 1/2 cups bourbon or whiskey
1/2 cup dark rum
1/2cup brandy
12 eggs
1 1/2 cup sugar
1 vanilla bean pod
2 star anise, dry roasted (optional)
To serve:
1 1/4 cup whole milk
1/4 cup heavy cream
Ice
Whole nutmeg, for grating
Combine all of the spirits and set aside. In a large bowl or standing mixer, add the eggs and sugar. Beat on low speed until all of the sugar has dissolved, about 3 to 5 minutes. Turn the mixer to the lowest setting and slowly add the spirits, drop by drop at first to temper the eggs. When all of the liquid has been added, strain into a clean glass jar (using a strainer will catch any solid bits of egg), cover and store in a cool dark place. Invert the jar occasionally, or at least every three days, for at minimum of nine days and up to three weeks total. Five days before serving, add the vanilla bean pod and star anise, if using.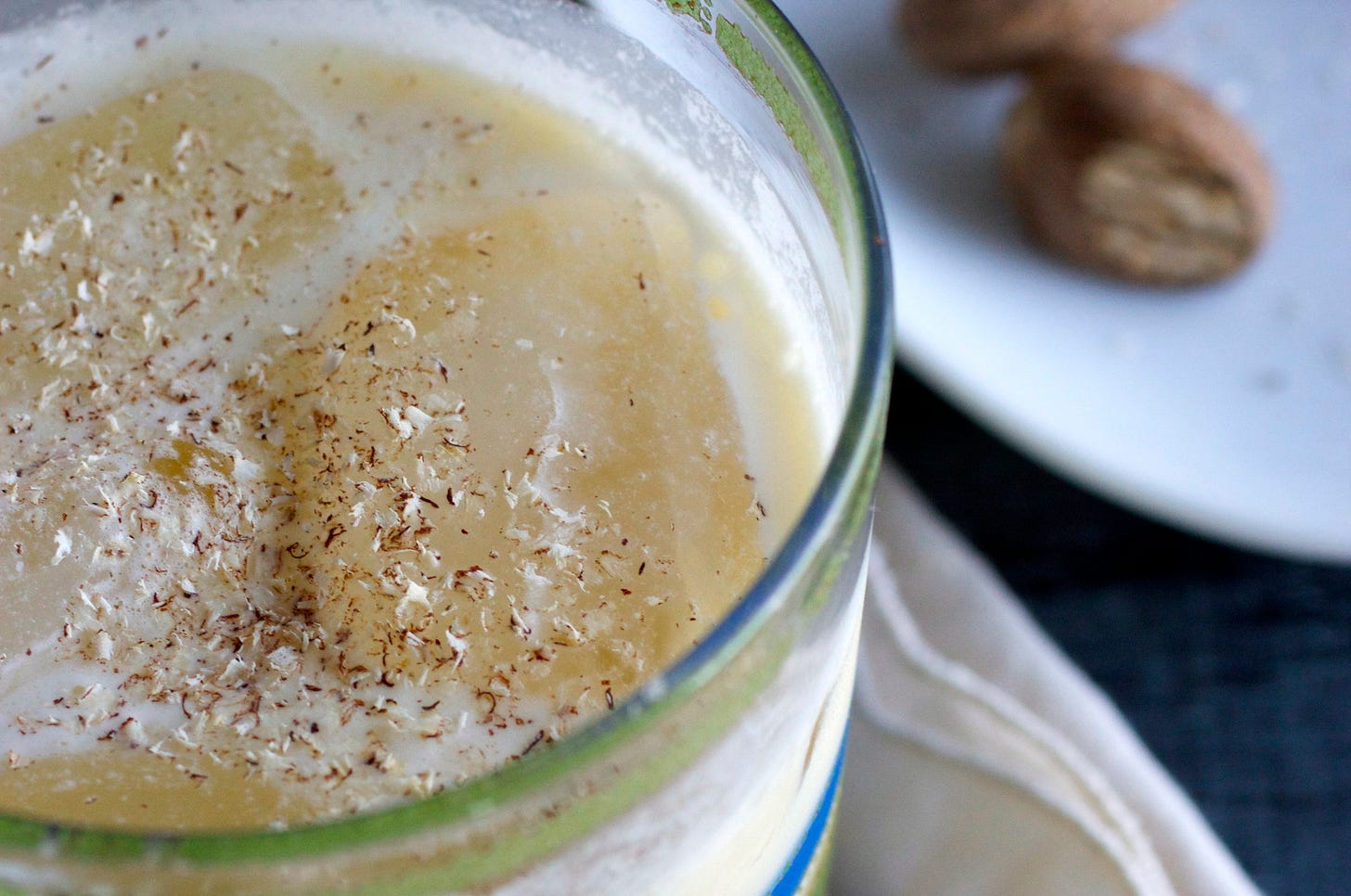 To serve: strain out the spices and place the eggnog mixture into a large bowl or container. Add the milk and heavy cream and stir to combine. To serve, shake a ladle-full (about ½ cup) of eggnog with ice until frothy. Serve immediately, over a lowball filled with ice and top with some freshly grated nutmeg.